Minicams adopts Quadrus Ingest Machine to add multi-channel recording to its TV services.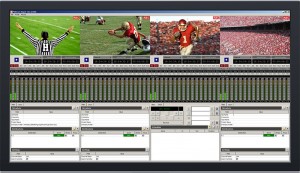 In the last year, the surge in fixed rig production has seen countless series filmed using discreet camera heads and installed PTZ cameras. Production specialist Minicams has been at the forefront of this revolution, with recent credits including Secret Eaters, Hotel of Mum and Dad, Motorway Cops and Barely Legal Drivers. Now the company is extending the remit of location production and fixed rig facilities by adding multi-channel recording to its inventory.
"Traditionally, multi-channel recording has been the preserve of OB facilities and broadcasters. By investing in Quadrus Ingest Machine, we can now offer secure 8-channel recording to an HD codec that suits the customers' workflow." Said Nick McLachlan of Minicams.
The Quadrus system, distributed by Holdan, has already been used for Channel 5's GP's:Behind closed doors, where four individual streams were captured as Avid DNxHD. This system was selected for a number of reasons: firstly the intermediate recording format does not need to be transcoded prior to editing, secondly it integrates with Avid ISIS storage and finally it has the capability to check clips into the Interplay asset management system.
"Alternative technologies are non-starters for fast turnaround location shoots. Racks of VTRs are bulky and inflexible. Likewise, broadcast servers are very expensive and cumbersome, best suited to use in a dedicated studio or OB truck. Quadrus, on the other hand, records Avid-compatible files and is PC-based so it's light, portable and easily maintained. It works with local or network storage, and as it runs on a standard workstation, it can be configured to our changing needs." Continued McLachlan.
Minicams purchased the Quadrus system from Altered Images, fully configured on an HP Z820 workstation. The solution removes the need for individual decks to record each camera output, an approach that requires regularly swapping out recording media and the drawn-out process of manually ingesting and logging files from each card. With Quadrus, each channel is recorded to a central storage silo, with production management systems able to manage every asset during the shoot. The software also supports chase editing which enables post production teams to cut the programme even while cameras roll.
The next stage of development for Minicams is to integrate the software more fully with its portable production units (PPU).
"Currently the 'Live Cut' feature allows us to create a basic EDL on the fly via a keyboard which can be read by most NLEs. We're now working on ways to tie the vision mixer into the live recording workflow. By creating dynamic sequences as well as an EDL at the production stage – instead of in the edit suite – the director will potentially save considerable time in post production." Concludes McLachlan.